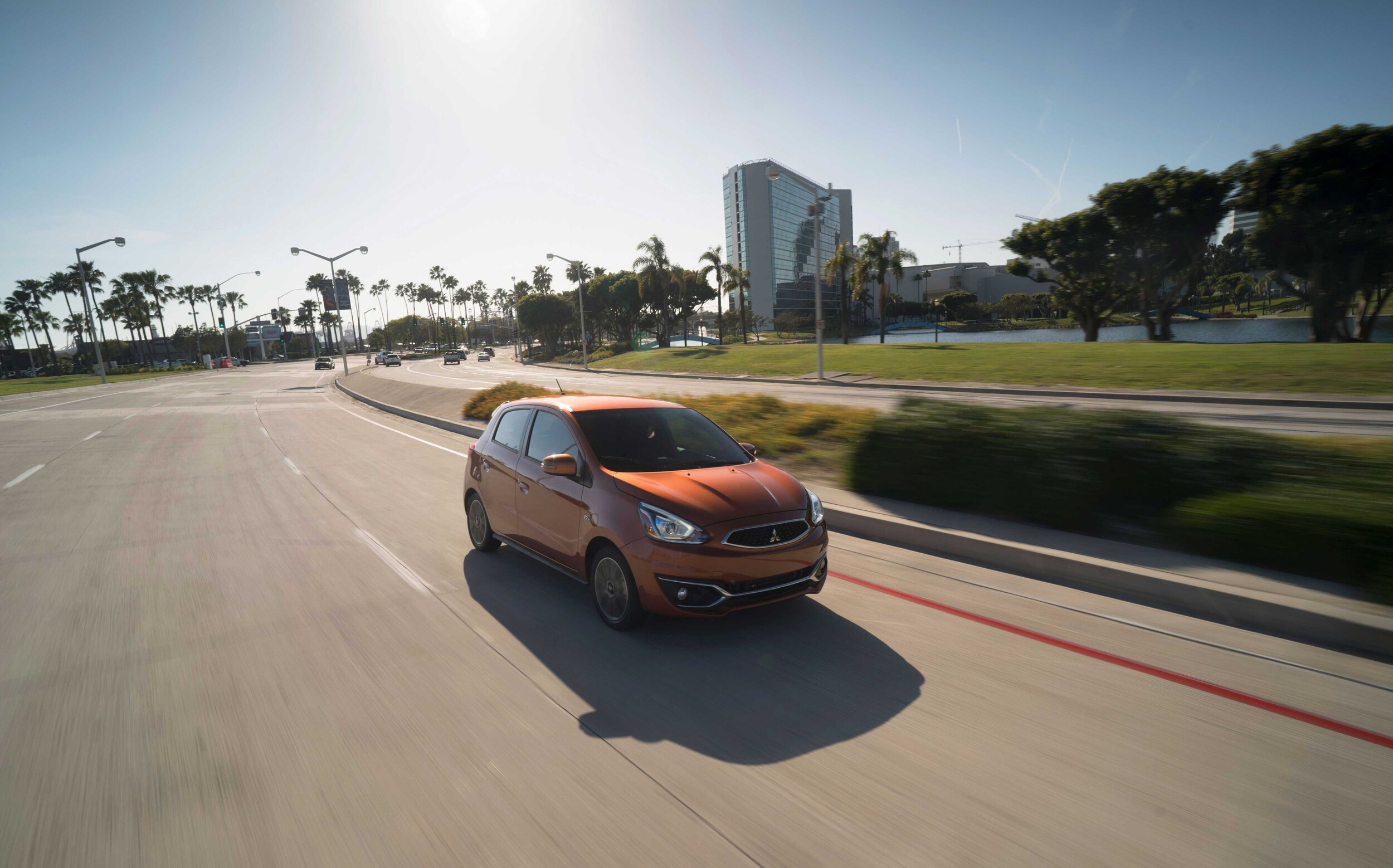 The Mitsubishi Mirage has been a favorite model for urban city drivers, and the 2021 Mirage model does not disappoint. With upgraded vehicle features and outstanding fuel economy – the 2021 Mitsubishi Mirage is a dream come true.
Eco-Friendly Performance
No matter which model you choose, the Mirage is engineered for efficiency and Mitsubishi's 1.2-liter MIVEC engine provides the fuel economy you want with the powerful performance you need. The Mirage's compact size makes urban driving effortless and enjoyable as you navigate narrow city streets and maneuver sharp corners and dreaded parallel parking. With up to 41 MPG and two transmission options—the Mitsubishi Mirage offers low-fuel spending and incredible control.
Small Car, Spacious Interior
Hop inside and you'll find a surprisingly spacious interior with comfortable seating for 5 and plenty of room for cargo. Created with comfort and convenience in mind, the Mitsubishi Mirage is a perfect pick for any urban adventures or longer road trips.
Upgraded Safety Features
The Mitsubishi Mirage will give you less to worry about with standard safety features including a rearview camera system, four-channel Electronic Brake-force Distribution, Brake Assist, and an Active Stability Control system to monitor the grip of your tires so you can maintain control as you drive on any road conditions you encounter on the journey. Plus, the RISE (Reinforced Impact Safety Evolution) body construction gives the Mirage a stable, secure base that will absorb energy during high-impact collisions so you can stay worry-free on the road.
Technology and Design
The Mitsubishi Mirage is equipped with the latest technology features needed to make every journey safe and enjoyable. Drivers will stay connected to their world through the CarPlay feature with wireless Bluetooth technology to switch seamlessly between Apple music playlists and Google maps, and answer calls and texts through voice command – all while keeping your hands on the wheel and eyes on the road ahead. Learn more.
Outstanding Fuel Economy
The 2021 Mirage is one of the most fuel-efficient non-hybrid compact cars in the United States with an estimated 36 mpg in the city, 43 on the highway, and 39 mpg combined. The Mitsubishi MIVEC engine provides eco-friendly emissions without taking away from a powerful performance – so you can spend less time filling up and more time enjoying the drive.
Choose the right Mitsubishi Mirage model for you from the ES, LE, Carbonite Edition, and SE. Not sure which model or style is right for you? Contact us or stop into our Bob Penkhus Mitsubishi showroom today to schedule a test drive. Our knowledgeable car experts will answer any questions you have and help you find the perfect car for you!
- Your friends at Bob Penkhus Mitsubishi